Resin Cloud Support | Java Clustering
With built-in support for both internal and external virtualized environments, Resin makes it possible for existing applications to take advantage of an elastic infrastructure. Our clustering supports running multiple versions of the same application within the same server so that upgrading requires zero downtime. Resin's cloud support includes remote cluster-wide and synchronized application deployment, data and session replication, failover to improve reliability and responsive dynamic servers.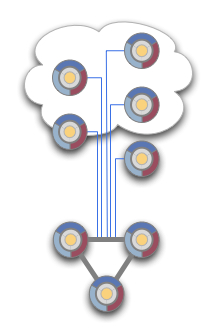 deployment: ensures your application is consistently deployed across the cloud, even when virtual servers are added and removed.
configuration elasticity: adapts cluster service topology automatically without configuration changes.
service elasticity: cluster services – load balancing, caching, management, and messaging – adapt to added virtual servers.
management: browser and command-line management across the cloud.
reliability: shared data is triple-replicated for high-available redundancy.
performance: Resin's fast server is just as important in the cloud as in non-cloud deployment.
Benefits and Features
Short Video with Animations Describing Resin Cloud Support
Deployment
Add and remove virtual servers as your site traffic varies.
Cloud deployment ensures each server has the most recent application version.
Activation and rollback gives you quick control over the application version.
Staging and deployment archiving ensures application quality.
Transparent Elasticity
Transparently manages cloud services as virtual servers are added or removed.
Distributed session store adapts to new servers, maintaining replicated state.
Cloud-aware load balancer distributes traffic to new virtual servers.
Administration and health monitoring expands for new virtual servers.
Reliability
Triple-redundant hub replicates all important data, protecting from downtime and maintenance.
Heartbeat and health checks monitor system health every 60 seconds.
Elastic load-balancing and failover maintain smooth operation during failures.
Performance
Integrated proxy cache offloads shared data.
Fast Resin Web Profile server scales to the cloud.
Elastic jCache expands for all virtual servers.
JMS queue listeners expand messaging processing.
Resin Cloud Explained
Resin Cloud on Amazon How-To