Resin Professional
Resin Pro's lightweight Java EE 6 Java Application Server gives your site the performance it needs. It is designed for deployment and management of HTTP and SOA applications. When you need to update your servers, use Resin Pro's powerful clustered deployment for zero downtime updates. Resin Pro's features include built-in caching, cloud computing support, security and messaging.
To make your sysadmin's life more manageable, use our sophisticated health monitoring and administration tools.
Release cycles are every four weeks and technical support is provided by Caucho's San Francisco based engineering team.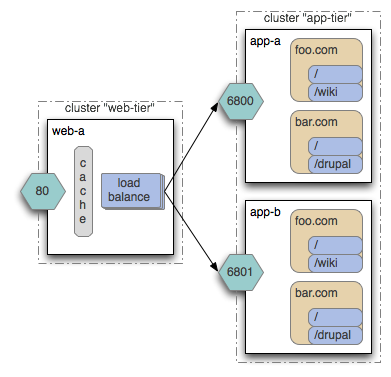 certified: Resin Pro is focused on the JavaEE 6 Web Profile, the core features for web applications.
lightweight: designed with CDI at its core as a focused, lightweight web server.
reliable: extensive health checks, heartbeats, and a watchdog combine to verify the health of your server.
fast: a streamlined HTTP, integrated proxy caching, JNI-based NIO delivers pages as fast as C-based servers.
scalable: clustering built into the core based on Hessian and WebSockets, designed to scale to the cloud with elastic application deployment, distributed caching, load balancing and messaging.
Learn more about Resin
| | |
| --- | --- |
| Documentation | Whitepapers |
Benefits and Features
Resin 10,000

Fast Servlet, JSP, and JSTL to rival any application server or servlet container
Web server and static file performance that meets or exceeds that of many C-based servers
Extensive caching at all levels
Support for as many as 10,000 simultaneous connections, including keepalive and comet

Cloud and Clustering for Enterprises

Unique clustering architecture enables scaling in traditional data centers, cloud environments, or combinations of both
Sophisticated load balancer optimizes resources
Distributed object and page caching reduce application load

Administrator Friendly

Monitoring facilities available via built-in console or third party applications via JMX
Versioned application deployment for graceful upgrade of applications
One step distributed deployment in clustered environments, including cloud
Sophisticated request rewriting mechanism to simplify deployment architecture

Security

Easy, extensible authenticator architecture provides powerful security
Single sign-on support across virtual hosts and applications
Integrated OpenSSL support for performance and compatibility

Developer Friendly

Hot deployment of applications
Automatic JSP, PHP, and source compilation
Development and deployment time profiler and memory analysis tools

Standards

Adheres to JavaEE standards (certified for JavaEE Web Profile)
Servlet, JSP, JSTL, EJB, CanDI, JSF, JPA, and more
Early access implementations of upcoming standards like Java Injection (JSR-299) and Servlet 3.0